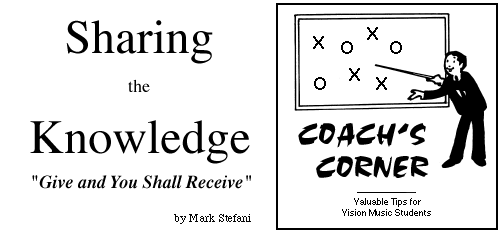 ---
Welcome to "Coach's Corner!" Despite all of the wonderful lessons and jam tracks here at Vision Music, there is nothing that quite compares to what you'll see in this section of the website. As you can probably tell, I believe that the knowledge and the language of music are elements that we only "borrow" in this lifetime. None of us truly owns them, and there is nothing greater than sharing them with others.

Throughout my career, my very best influences and teachers were always those who went far beyond the level of simply dispensing music information. I particularly appreciated those who would share their philosophies, their trials and tribulations, and their joys and frustrations with me. My late father was utterly brilliant at this, and though he was a tremendous player in his own right, his unselfishness in giving everything he had to give to those seeking the knowledge is what I'll always remember most about him.

Before music, my first love was art, and writing. Little did I know as a youth that music would eventually engulf my life, to the degree where now I truly feel that I have some priceless information to offer anyone who may be willing to listen to what I have to say. All of my insights were gained through many years of working with and coaching other musicians. I don't claim that my conclusions and opinions are absolute truth for everyone, but I know that you'll find a great deal of useful information and tips here.
I began writing the "Coach's Corner" article series several years ago, for the express purpose of continuing the noble tradition of sharing, passed down to me from my father and some very special influences. There are 24 original articles in this collection, with a broad range of topics for you to choose from. This is probably the finest work of my journalistic career, and a unique part of who I am as a person and coach. Enjoy!

---
The following 24 articles were intially released exclusively to Lessons by Mail students, and later made available for free to all fans through this part of the website, where they remain to this day.
---
The "special" article editions, including all of the new releases shown below, plus the upcoming articles and the expanded "workshop" series, are available for Vision Music Members only. For information on how to join for just pennies a day, click here.
More Articles
The Latest Editions

Special Note: We have just begun to add high-quality PDF versions to the Coach's Corner article series. You can access the download link from either of the most recent editions shown above. Enjoy and stay tuned for more...

---

The following "workshop" editions of the article series are highly valuable. They're presented as step-by-step discourses on powerful subjects related to your growth. For Vision Music Members only.

If you're a songwriter or an aspiring composer, join the Coach for an in-depth, "nuts and bolts" discussion of how to write successful tunes in any style. This article in the "Workshop" series is in three parts, covering all areas of writing.

Subtitled "Innovation Through Imitation," this three-part edition of Coach's Corner will guide you through the steps involved in learning music by ear, then the specifics of how to accurately notate your work. Great information for the serious musician!

This extensive "Workshop" edition of Coach's Corner, again presented in three parts, focuses on all aspects of reaching higher ground as a soloist, regardless of style. Blues, riffs, scales, model solos, transcribing, recording, and more.

---

"Coach's Corner" is an ongoing addition to Vision Music. The purpose of these brief articles is to share philosophy, offer practical insights, and to enhance your musical studies.

Have you visited our Online Store?

Click Here to "see what you've been missing!"

---

News | FREE Lessons | Jam Tracks | Songs | Articles | Products | Forum | Contact | Site Map